08.05.16:
As usual, I've been busy these past months. For the upcoming "Hessentag", a ten day celebration taking place in my hometown of Herborn this month, I collaborated with Katarina Kronburger (picassolina) on the creation of ten lightboxes representing Herborn's districts. The project is called "Lichtpromenade" (Promenade of Light). Click on the image below for more information

Together with picassolina and Raffaella de Bastiani I'm going to exhibit my works at the Gutshof Hotel in Herborn, starting in mid-May. Both Tolkien and BBC Sherlock inspired works will be on display.

Two new books have recently been published featuring my illustrations. One is High Towers and Strong Places: A Political History of Middle-earth by Timothy R. Furnish, published by Oloris Publishing. More information is at the publisher's website. A sneak peek at some of the 24 watercolour illustrations I created for this project can be found by clicking on the cover.

The other book is J.R.R. Tolkien: Romantiker und Lyriker by Julian Eilmann, published by Oldib Verlag. It uses my watercolour painting of "Tuor's first view of the sea" (see below) as cover illustration.

There's another new Tolkien painting: "Stargazing" More are in the works.

Lastly, I've created a considerable number of new Sherlock drawings, which as always can be found on my tumblr. Most notable here are my illustrations for my fanfiction story Enigma that is set in 1941 and features Sherlock as a codebreaker at Bletchley Park, as well as drawings for my upcoming Sherlock Graphic Novel, a celebration of both the TV-series Sherlcock and of London.

New Sherlock prints are available at my storenvy shop, some samples are shown below. Also, some of my Tolkien prints are back in stock. A few copies of my X-Files poster are left as well.
17.11.15:
I've replaced the old shop with a brand new storenvy shop where you can now acquire original Tolkien art, Tolkien prints and postcards, as well as Beowulf, Cabin Pressure and of course Sherlock inspired art. So do check it out by following the white dragon:
16.10.15:
I've not been idle over the summer and drawn a number of new Sherlock pieces, which as ever can be found at my tumblr (always a good place to check for updates, as is my twitter). There has also been new Tolkien art, such as several pieces for the 2016 Beyond Bree Tolkien Calendar, which can be preordered following the link above.

They are "Tuor's first view of the Sea" and "The Stone of Erech" (watercolour), and "Tuor in Nevrast" and another version of "The Stone of Erech" in ink. Two other ink drawings, "Dorwinion" and "The Gladden-Fields" weren't used for the calendar, but I'll post them here all the same.

I've also created two Hobbit inspired pieces which were intended for the bonus material on the Special Extended Edition of The Hobbit – The Battle of the Five Armies. Sadly, the section containing the pieces had to be cut due to lack of space. Luckily, one of my older Hobbit drawings will be featured in one of the documentaries. The two unused images are "Thorin and Thranduil" and "Battle". Of the latter exist both a watercolour version and a pencil drawing.

The latest Tolkien painting, "Hobbit Door", was created as a wedding gift for two dear friends.

In other news, I'm going to be sharing a table with some other artists at MCM London Comic Con from Oct. 23rd to 25th, so do come by and say hello. I'll be bringing my Sherlock fanbooks and hopefully some Tolkien art as well, as well as my Beowulf and the Dragon books.

Illustration-wise, I'm currently working on a book on Tolkien for Oloris Publishingwhich keeps me more than busy.
07.06.15:
Gosh, has it really been half a year since my last update? I've produced a couple of new things, and am working on new stuff, such as new Tolkien pieces for the 2016 Beyond Bree Calendar. Next year's topic is landscapes in Tolkien's works, and I'm working on a couple of ink drawings to be used as backgrounds, and watercolour pieces as actual illustrations.

I've also just finished illustrations for a children's book called Das Geheimnis des Schwarzen Einhorns (The Secret of the Black Unicorn) which is going to be published by G&G Verlag in July. Below are the cover-illustration and the actual cover:

Walking Tree Publishers has released the Mediaeval fantasy The Monster Specialist by Edward S. Louis. I was asked to create the cover illustration and ten interior illustrations for this delightful take on Arthurian legends. More information can be found here. You can also download the first two chapters for free here.

As usual, there's been a lot of new Sherlock fanart, as can be found at my tumblr (which is also a good place for more regular updates on my artistic endeavours). I'm currently working on another Sherlock fanbook, based on the 31 Day Domestic OTP Challenge.

Another Sherlock Fanbook of mine has just been published:

Let's Draw Sherlock Fanbook: 72 pages (it contains all the art I created for "Let's Draw Sherlock" challenge over the years, plus some additional stuff), format square (21 x 21 cm), softcover, printed on Munken Pure 130 gsm paper, number of copies: 50, price 10 € (+ 3,50 € for international shipping)

For those who don't want a printed version, you can download the pdf here.

All info about my Sherlock merch can be found at my Sherlock page.
29.12.14:
I've been very busy with school these past months, but managed to produce some new artworks, mostly Sherlock inspired but also some Tolkien pieces, too. Also, two books have been published that not only contain my illustrations, but which were also designed by me (cover design, logo etc). They're are the first two books in the Time-Twister series written by Martin Selle and Susanne Knauss and published by Amrûn.

The series follows the adventures of two siblings who discover a mysterious houseboat with a magical compass that allows them to timetravel or visit places like the interior of the human body. Every book contains the illustrated story and also an pedagogical part with quizzes, riddles and activities. The third novel in the series is currently being written.

• Volume 1: Die unglaubliche Reise ins Ich

• Volume 2: Madagaskar – Insel der Rätseltiere

There are two new Tolkien inspired watercolours: "Arrival at Bag End" which was created for this year's Christmas card of the Tolkien Society, and "Gandalf and Shadowfax" which I painted as a Christmas present.

Those who've been watching the bonus features of the Special Extended Edition of The Hobbit: The Desolation of Smaug may have recognised a drawing of mine: "The Thief and the Dragon", one of my Beowulf illustrations, is featured in the documentary "The First and Last Dragon".

I've also updated a couple of pages, and for example added some Sherlock animations to the films page.
07.08.14:
It's been another busy time since the last update. Some books have been published with my illustrations, such as From Peterborough to Faëry and Tolkien and Philosophy by Walking Tree Publishers, and Gegen Fürsten, Tod & Teufel by Christian Bogislav Burandt, published by the Evangelische Verlagsanstalt in Leipzig.

There have been some new Tolkien inspired pieces for the 2015 Beyond Bree Calendar, this time consisting of ink drawings, three of which were coloured with watercolour, the other two were left as linearts:

"Ancalimë in Emerië"
"Faramir in Ithilien"
"The White Tree"
"Éowyn of Rohan"
"Ioreth of Gondor"

I've also drawn "Dernhelm and Windfola" in ink.
Next week I'll be spending four day at the 72nd World Science Fiction Convention Loncon 3, exhibiting Tolkien, Sherlock, Temeraire and Beowulf art and doing watercolour presentations and a couple of other things. You can find my schedule here, or the full programme of the convention here, in various forms. Hope to meet lots of you there.

In the last months I've again created lots of new Sherlock fanart, such as another fanbook, this time inspired by Alfred Noyes' famous poem The Highwayman. You can find all the artwork at my tumblr, and can also purchase this fanbook and other stuff, as listed below:

Here's a masterpost of the fanart things you can currently acquire from me. The links contain more info on the respective items, such as samples of the interior artwork or even free pdf downloads of the fanbooks. Postage usually costs 3,50 € for international shipping. Payment works best via PayPal. To arrange it, please contact me using the contact form.

For every item sold directly through me, 2 € will be used as a donation to the Prince's Trust, as I'm undertaking another Palace to Palace Bicycle Ride in October to support the trust.

Most of the stuff will also be available at Loncon3.
30.03.14:
The four months since the last update have been very busy, mostly with school-related things and illustration projects, the results of which are going to be published soon. I've also been creating new Sherlock fanart whenever I could, some of which can be acquired in the form of prints or fanbooks. Their prices are mostly calculated to cover the printing costs, what remains in the form of earnings I will use as donations to support my cycling team for this year's Palace to Palace Cycle Ride for the Prince's Trust.

Here's what you can purchase:

Sherlock Fanart Prints + Sherlock Fanbooks

There are ten copies per motif, size A4 (29,7 x 21 cm). The motifs are:

The Sound of Murder
Sherlock Holmes and the Fate of London
None of the cabs would take me
Sherlock
Taxi
A short rest
Circle of Fifths
The Detective on the Roof
Rainy Day
The Beast of Baskerville (four drawings on one print)

I'm selling them at 5 Euros each, 2,50 Euros of which I'd like to use as a donation to support my cycling team for the Palace to Palace Cycle Ride in October. Last year my dad and I managed to raise £500 for the Prince's Trust. It'd be cool if we could top that amount this year. You may of course donate more if you want ;).

There are still some Sherlock after the Fall and 30 Days of Johnlock fanbooks left, as well as Sherlock ABC prints.

The books are 7,50 Euros each, or 12 Euros together, the ABC print is 2,50 Euros. For sneak peeks at the books' content, follow the respective links:

Sherlock after the Fall Fanbook: 48 pages (42 images), format A5 landscape (14,8 x 21 cm), softcover, printed on Munken Pure 130 gsm paper, thread stitched, original number of copies: 100, á 7,50 €

30 Days of Johnlock Fanbook: 64 pages (30 images), format A5 portrait (14,8 x 21 cm), softcover, printed on Munken Pure 130 gsm paper, original number of copies: 50, á 7,50 €

If you're interested in any of the stuff, please contact me via the contact form. Payment is best via PayPal but if that doesn't work for you we can arrange some other method. Shipping is 3,50 Euros for international mail.

For Tolkien, Beowulf and Temeraire prints you can also check my Artflakes site, for Sherlock T-Shirt designs my shop at Spreadshirt.
30.11.13:
The 2014 Beyond Bree Tolkien Calendar has just been released, but planning for the 2015 calendar has already commenced. I've been invited to contribute two colour pieces and two s/w drawings, as well as the cover-illustration. The topis is going to be humans. Time to revisit a dear old friend, I guess ;).

In other Tolkien news, several of my older and newer works have been featured in Middle-earth Envisioned published by Race Point Publishing. I'm honoured to see my artwork featured alongside many accomplished illustrators such as Alan Lee and John Howe. And there's even a small Sherlock drawing in there ...

Another recent release is In the Nameless Wood, the sequel to Tolkien's View. Both are published by Walking Tree Publishers and feature several line-drawings by me, in the case of the new release despictions of archaelogical finds of the Romano-British period. Clicking on the covers below will lead you to the respective sections of my website.

I've also been commssioned by Oloris Publishing to illustrate Tim Furnish's Glorious Warriors which will be released in 2014, and am working with Austrian author Martin Selle on a series of children's books. I've also just finished the illustrations for a book about the "Augsburg Confession" for Evangelische Verlagsganstalt in Leipzig which is also due in 2014.

Last year saw the publication of another book I illustrated for Evangelische Verlagsganstalt, entitled Die verzauberte Pfeife (The Enchanted Pipe) and containing stories about the famous Thomaner Choir of Leipzig, some images of which can be found by clicking on the cover below.

Also last year I illustrated In den Fängen des Trollkönigs (In the Cluches of the Troll-King) for G&G Verlag, Vienna. I recently received a copy of the Ukrainian translation. Some of my watercolour illustrations can be found by clicking on the cover.

And as always, there have been plenty of Sherlock drawings and paintings. A second fanbook is in the works, too, and will feature the drawings of my 30 Day Johnlock Challenge. For updates do check my
07.08.13:
As in the previous year, I've been asked to contribute to the Beyond Bree Tolkien Calendar. The topic for 2014 is "Dwarves". The calendar will feature two of my older pieces, "Durin's Day" and "Balin's Tomb", but I've also created two new drawings: "Mîm the Petty-Dwarf" and "Battling the Dragon". Both were drawn in iron gall ink.

The calendar can be preordered here. (Do hurry, they tend to go quickly)

Walking Tree Publishers has recently released O What a Tangled Web edited by Barbara Kowalik featuring a drawing of mine on the cover:

Also, there's a new Tolkien inspired watercolour: "Smaug over the Long Lake"

In other news, one of my paintings, "Glorfindel", was sold to the Greisinger Mittelerde Collection and will be exhibited in the new museum. I've been invited to the opening in early September and look forward to seeing the collection and meeting all kinds of Tolkien folks.

Speaking of news, I'm also on twitter now. It's linked to my tumblr account, so mostly you'll find links to my tumblr posts there (and lots of Sherlock fanart ...). But it's the best way of keeping up to date with what I do.
23.06.13:
It's done: the printed version of my Sherlock after the Fall Fanbook is available for purchase:

48 pages (42 images), A5 landscape (14,8 x 21 cm), softcover, printed on Munken Pure 130 gsm paper, thread stitched, number of copies: 50

Price: 7,50 € (+ shipping: Germany: 1,50 €, international: 3,50 €)

Payment: Paypal (please contact me to arrange payment and shipping)

For those who want a closer look at the interior of the book, a post with all images can be found here. Alternatively, you can download the pdf.
23.04.13:
Finally an update! I've been very busy with school lately, and as always the Sherlock fandom has been a distraction. Still, there is some new Tolkien art: "Frodo's dream of Eärendil" and "Eorl the Young". Both will be used as cover illustrations for publications by Walking Tree Publishers.

Speaking of which, one is out already: Tolkien's Poety, edited by Julian Eilmann and Allan Turner.

As in previous years, I've also been asked to create the poster for the annual Tolkien Conference of the German Tolkien Society. This year it takes place from April 26-28 at Aachen University, Aachen, Germany. This year's topic is "Adaptations of Tolkien's The Lord of the Rings".

Concerning Sherlock, there's loads of new artwork at my tumblr, and also new t-shirt designs and other shenanigans. I've also arranged one of my fanart series in a fanbook entitled Sherlock after the Fall, the pdf of which is available for download below (click on the cover). I'm considering having the book printed, too, so check my blog for updates on the project.

I also tried my hand at animation again:

Last but not least it's still time to sponsor my dad and myself for our charity bike ride! Every donation serves a good purpose and is going to help children in need.

Palace to Palace West Midlands 2013 Team 221B
04.12.12:
Starting today, there are 25 of my Tolkien-inspired watercolours on display at Stadtbibliothek Aachen (Aachen Central Library), as well as, for the first time, some of my sketchbooks. The exhibition will officially be opened on Friday, 07.12.12 at 18:30 with an introduction and reading by Frank Weinreich. it runs until 12.01.2013. Entry is free.

Walking Tree Publishers has released a new book that features one of my illustrations on the cover: Sub-Creating Middle-earth: Constructions of Authorship and the Works of J.R.R. Tolkien, edited by Judith Klinger, who also commissioned the artwork. The charcoal and red chalk drawing is entitled "The Red Book" and was completed in 2007.
15.10.12:
And now for something completely different... SPONSOR Me for a worthy cause!

I've registered a team for the charity bicycle ride "Palace to Palace West Midlands Bike Ride 2013" for the Prince's Trust. It's going to take place on 19 May 2013, starting and ending in Warwick after a tour of 45 miles (ca 70 km). Since it's a charity ride, I now need sponsors to donate and support my team.

In case you'd like to donate or even join our team (Team 221B) all further information can be found here:
16.07.12:
There's yet another new book by Walking Tree Publishers featuring one of my paintings ("The departure of Boromir") on the title: The Broken Scythe.

Also I've uploaded a mass of Tolkien-inspired watercolours to my Artflakes-Shop, such as the motif "The trek of the Dúnedain" from my Gladden Fields-series.

Some of these motifs have been available before in my shop, but now they can be acquired much more comfortably, and you can even chose the size and method you want them printed in. Apart from Tolkien art there are also motifs from my illustrated Beowulf abd some of my Temeraire paintings available at
16.06.12:
School is winding down now, the holidays are approaching (and much needed they are). Meanwhile, I have produced some Tolkien-inspired art again, namely four fineliner drawings for the 2013 "Beyond Bree" Calendar. They are entitled: "Sméagol and the Ring", "The Watcher", "The Uruk-Hai" and "Shelob". As you can see, they constitute a change from my usual subjects. The calendar is dealing with the bad guys of Tolkien's legendarium ...

The drawings will appear alongside one of my watercolour paintings: "Isildur's Death", painted in 2007 as part of my Gladden-Fields series.

Also, there's a drawing of the Professor himself (another first for me), to be featured on the website of the German Tolkien Society.

And of course there are plenty new Sherlock drawings at my Sherlock-blog ...
19.04.12:
School continues to be busy, therefore only a small update today, mostly concerning upcoming exhibitions of my Tolkien-inspired artworks, which will be shown at the following venues and events:

• International Tolkien Conference at Friedrich Schiller University, Jena, April 27-29th 2012. Like every year, I created the poster for this seminar > website Tolkien Seminar

• "Tolkien's Welt", Veste Otzberg, May 20th 2012 – early 2013 > website Veste Otzberg

• "Return of the Ring" International Tolkien Conference, Loughborough University, Uk, August 16th – 20th 2012 > website "Return of the Ring"

• "Eine Reise durch Mittelerde" (A journey through Middle-earth) Exhibition at Aachen town library, Aachen (Aix-la-Chapelle), December 6th 2012 – January 11th 2013 > info-pdf
21.02.12:
Finally an update! The new year couldn't have started any better than with the second season of Sherlock. Unfortunately, it was over far too soon, and now it's back to waiting again for the addicts. There's plenty of new Sherlock-inspired artwork at my Sherlock-blog – consider yourselves warned, however: some is spoilery (in case you haven't watched Season Two).

Also, there are three new Sherlock t-shirt designs available at Spreadshirt:

In other news, Walking Tree Publishers have published two more books featuring my illustrations on their respective covers, namely Inside Language and Hobbit Place-names: A Linguistic Excursion through the Shire. For the first book, my painting of "Orome espies the first Elves" from 2005 was used, for the other one I created a new painting, "Three is company", which is also posted below.

Also, there are still some nice dragony coasters left featuring my drawing of Smaug in red and black fineliner. They're available at the German Tolkien Society. The photo was taken by Marie-Noëlle Biemer.

There are four other books with my illustrations about to be published: Die verzauberte Pfeife (The Enchanted Pipe) for Evangelische Verlagsanstalt Leipzig, In den Fängen des Trollkönigs (In the Clutches of the Troll-king) for G&G Verlag, Vienna, as well as two new books for PortalEditions' Scarecrow Project: The Anatomy of Air and The Explorers of the Chest and the First Sign. For now I'll just post the covers below. As soon as I've received green light from the publishers to put up some sample ilustrations on this site, I'll update with more information.
27.11.11:
Walking Tree Publishers have re-issued two of their publications: Tolkien in Translation and Translating Tolkien: Text and Film. Both now feature my artwork on the covers, namely the paintings "Journey to Rivendell" (2005) and "Ithilien" (1999). New artwork for upcoming publications is in the works.

It's taken a while, but finally the second volume of the Brothers of Gondor zine containing fanfiction featuring Denethor's sons has been published. It can be downloaded in various formats here. I contributed the cover illustration (coloured pencil).
27.10.11:
School has started again after autumn break and is keeping me busy. Also, I'm working on illustrating a collection of stories about the famous Thomaner Choir in Leipzig, as well as two cover-illustrations for upcoming publications by Walking Tree Publishers and a new children's book for G&G Verlag.

Moreover, Oldib-Verlag has just published a collection of essays dedicated to Tolkien and Fantasy-scholar Friedhelm Schneidewind which I illustrated. There's more info about the book by clicking on the cover below.

Last but not least, there's loads of new Sherlock fanart (yeah, that's keeping me busy as well ...). Instead of posting every single drawing on this website, since many contain references and therefore links to fanfiction stories and their authors, I'll just put up the link to the fanart-tag of my blog. Updates are quite frequent at the moment, as my fascination with this series doesn't seem to be diminishing:
26.08.11:
From 9th September to 20th of October some of my illustrations from various projects (Tolkien, Temeraire, Ghoststories of Herborn, The last Dragonwarrior and Austrian Fairytales), are going to be exhibited at the Phantastische Bibliothek in Wetzlar, Germany. The exhibition opens on September 8th in connection with the seminar Wetzlarer Tage der Phantastik. More infomation can be found on the library's website.

The posters are Sherlock-inspired parodies of famous Musicals, The Sound of Music and West Side Story.

And there is more Sherlock fanart: two pieces inspired by Madlori's brilliant (and heartbreaking) story Alone on the Water, one of the best I have read so far. They are entiled "Are we going to talk about it" and "He is sleeping now".

The next drawing is also inspired by fanfiction, this time SeenaC's Tension Makes a Tangle. The title is "Butterflies".

And finally two more pieces, "On the moor" and "After the bomb":
08.08.11:
G&G Verlag in Vienna, Austria has published a new book with my illustrations: Der letzte Drachenkrieger (The last Dragon-warrior). By clicking on the cover below you'll reach a special page with some samples of my illustrations.

Also, two new Sherlock-drawings: "Duet" and "Eat"
19.07.11:
Another Sherlock-drawing, in celebration of Benedict Cumberbatch's birthday today. Have a great one, Ben.

Also, I've replaced one of my T-shirt designs by a slightly altered version, thanks to the suggestions of a fan. The result is again available at Spreadshirt in a variety of colours, shapes and sizes.

Lastly, I've recently set up an account on tumblr, mostly for Sherlock-related stuff.
14.07.11:
And some more Sherlock, and a first attempt at John. Title could be "You're an idiot."
13.07.11:
I have updated the section of PortalEdition's Scarecrow and the Storms with information and lots of illustrations on two books I did for them last year. I've recently finished another one, the sequel to The Explorers of the Chest, as well as illustrating The Anatomy of Air, both of which should be published shortly. Clicking on the covers will lead to the books' respective pages.

Also, there's some inevitable new Sherlock artwork (hey, it's a great way to practise drawing, after all ;)), this time based on some photographic reference:
19.06.11:
As announced, a number of my illustrations for Beowulf and the Dragon as well as some graphics inspired by the story are available as prints, poster, postcards and more at my Artflakes-shop

And since all that Sherlock-stuff has amounted to quite a lot already, I've created an extra section on the website, with authentic wallpaper:

For those with some extra cash, there are these cool T-Shirts ... *hint, hint*
17.06.11:
Bücherwelten is offering a rare edition of Beowulf and the Dragon, containing an original drawing by me. You can find the offer by clicking on the cover below:

And speaking of dragons, it looks like Benedict is going to be voicing Smaug the Dragon in the Hobbit-movies (and the Necromancer), which I'm really excited about. Just imagine the scenes with him and Martin Freeman's Bilbo ... Despite my admitted dislike of Peter Jackson's take on The Lord of the Rings, I think the Hobbit-films could actually be good – if the writers refrain from "hollywoodising" the story by adding loads of unnecessary and annoying stuff that's not in the books, and changing characters beyond recognition. Well, at least some of the casting decisions are excellent so far. Time to celebrate with some new Sherlock sketches.
28.05.11:
For those of you book-lovers and Temeraire-fans with a little cash on the side: Bücherwelten offers the first three books of the series in a unique version. They're the Subterranean Lettered Editions of His Majesty's Dragon, Throne of Jade and Black Powder War, each containing five illustrations of mine. They're all signed by Naomi and myself and also contain an original drawing be me. Moreover, each is housed in a unique traycase (see picture below). In case you're interested, contact Jonas Ploeger at Bücherwelten.

In other news, I've just completed illustrations for another book for G&G Verlag, Vienna, and am currently starting working on a new book for Portal Editions, as well as looking after a couple of other commissions.

In between I managed to do some more Sherlock sketches. Congrats to the boys at the BAFTAs last weekend (you'll get one next year, Ben; they can't overlook you forever ;)).
28.04.11:
Prints of my unpublished Temeraire-artworks can be acquired at Artflakes. I'm considering putting some Beowulf-artwork there, too, in the weeks to come, and maybe other stuff as well.
27.04.11:
A week ago I spent an amazing day and a half in London (again *cough cough*). The reason was the Frankenstein Q&A-session at the National Theatre with director Danny Boyle and his two lead actors. Ok, so I mainly attended for one of the lead actors. It was a thoroughly enjoyable event (a transcript and photos can be found here), as was the entire day. I can't remember having drawn and sketched so much during a single day for a long time.

In the morning I went to the Tate Modern and did some sketches, then I spent three fabulous hours at the National Theatre Archives watching After the Dance (for costume research, of course – after all, the production won an Olivier Award for said costumes). Afterwards there occured some random Sherlock drawing (all from memory, so it might not be entirely accurate; and yes, I warned you there might be fanart coming), and in the evening I drew some more during the Q&A, to then have the pages signed by the man himself. So yes, to sum up the day, it was Good.

The following morning I visited the Imperial War Museum for some more sketching, before catching the plane back home. Below are the sketches from After the Dance, the Sherlock drawings and the drawings of Ben during the Frankenstein Q&A:

PS: Congrats to Ben, Martin and the makers of Sherlock for their respective BAFTA nominations. If they don't win there's no justice in the world.
13.04.11:
As I have hinted at in previous posts, ever since watching a certain BBC-series last October I have been extremely distracted – and inspired – by it. So much, in fact, that in early March I spent 4 1/2 freezing hours queueing for Frankenstein-tickets at the National Theatre, London (from 5 am until the ticket office finally opened at 9:30) because a certain actor has a leading role in that play. But it was so worth the wait and the cold, both the play itself and seeing Benedict live (and so close). Hell, if this carries on I might even draw some Sherlock-inspired fanart. It's that bad, I can tell you.

So, to vent my creativity, I created some T-Shirt designs, which are now available at Spreadshirt.

I also recreated The Coat (because obviously I can't afford the real thing, and it's such a fabulous garment ...). For those interested, there's a "making of" of my version available (mostly in German, but the images should speak for themselves): Get your Coat.

I've been very interested in historical costumes and costume-making for some time, and am hoping to soon post information about some of my previous costume-projects on this website (e.g. my British Naval Captain's Undress Uniform of around 1806, some early Medieval stuff and a men's outfit from the mid-18th century). This still requires some thought and effort in setting up the respective pages since there's quite a lot of stuff I've sewn in recent years, but I hope it'll be worth the wait.

For now I'll concentrate on my ongoing commissions, school, and – Sherlock permitting – finally some new Tolkien-inspired paintings. There are several waiting to be coloured.
12.04.11:
From April 29th – 1st May the German Tolkien Society's annual Tolkien Seminar is taking place at the University of Potsdam. This year's topic is Tolkien and the Middle-Ages. As in previous years, I designed the poster. More information about the conference can be found at the DTG's website. Below is a pdf-version of the poster for download:
16.02.11:
For those interested in learning a little about why I started illustrating Tolkien and how I go about it, there's an article on the LotR-Plaza Scholar's Forum.
02.02.11:
Sorry for the long silence. I'm still around, although extremely busy with school-matters (and rather distracted by the BBC's brilliant series "Sherlock" ...). Come March I'll actually have time again for Tolkien-stuff. There are a couple of paintings awaiting completion.

There is an update in the Shop , however: 7 new posters are available in the prints+posters-section.
12.11.10:
A new Tolkienpainting for The Disaster of the Gladden-Fields, entitled "The trek of the Dúnedain"
10.10.10:
A new drawing for The Snake's Checkmate, and new Tolkien-inspired paintings and drawings in the making. I hope to get them done during fall break at school. The drawing shows Éomer cheering up his brother-in-law, who is rather in need of it.
06.09.10:
A new Tolkienpainting: "Departure from Gondor", for my series of illustrations inspired by "The Disaster of the Gladden-Fields" from Unfinished Tales. The next painting is already in the works.

Also, here's my new entry for the Temeraire Fanart Contest: "The Chinese vase", inspired by Tongues of Serpents, the latest installment of the Temeraire-series.
01.09.10:
There's finally some news on the Tolkien-front. I'm still working on new paitings, which hopefully will be finished soon. For the meantime there are some new drawings, mostly for The Snake's Checkmate, in the Drawings-section. Some of them were drawn last year, but since I started a new sketchbook in the meantime I somehow forgot to scan them. The drawing below is based on canon LotR, though, entitled "Faramir and Boromir".

Also, I'm very happy to announce that the 2011 Calendar of Heren Istarion, the Northeast Tolkien Society is going to feature plenty of my artwork. The calendar is up for preorder now, so make sure to reserve your copy.

Thirdly, I had to change my entry for the Temeraire Fanart Contest – in fact I had to create a new one, as well as sending in three of my older pieces. The problem were copyright-matters, since I had painted a scene involving characters from the Temeraire-series as well as Patrick O'Brian's Aubrey/Maturin-series which I greatly adore. Had Naomi written a shortstory and published it commercially in the book that's going to show the winning artwork of the Contest, there would have arise said copyright-issues. So I'm simply going to post the piece here. It's entitled "Sonata for violin, 'cello, flute and dragonhorn".
24.08.10:
The summer so far has been very busy and productive. I've completed illustrations for three more books for Portal Editions, Shadows among the Trees, The Anatomy of Air and The Explorers of the Chest. As soon as the books have been released by the publisher, I'm going to post the illustrations here.

Another project I have been involved in was layouting a book commemorating the 100th anniversary of a local company in Herborn, Balzer und Nassauer.

A local project I also gladly supported was the creation of a box for a mobile apple-press. As soon as I have photos of the actual box, I'm going to put them up on this site. For now here's the link to Marthas Mobile Mosterei where you can see some of my paintings for the box already, depicting the village of Greifenstein-Beilstein where the press is situated. The illustrations are watercolours.

Also, I've completed a number of private commissions, such as a painting depicting two characters from Karl May's Orient-series, Kara Ben Nemsi and Hadschi Halef Omar Ben Hadschi Abul Abbas Ben Hadschi Dawuhd al Gossarah. As a child I read the series over and over again, and thus found drawing the characters a nice reminder of those times and an interesting challenge. The ink-drawing is A3 in format.

Last but not least I just sent off my entry for Naomi Novik's awesome Temeraire Fanart Contest, and am now working on a number of Tolkien-inspired illustrations. I really missed doing Tolkien-stuff, and am now very much looking forward to completing the paintings I have begun, and to turning the many new sketches I drew in the past months into paintings.

And speaking of Tolkien-art, Silver Leaves Issue #3 features an interview with me and some of my artwork. Do check out the journal, as it contains loads of interesting stuff besides.
26.04.10:
I've just returned from the Tolkien Seminar, with many ideas for more Tolkien studies, and more Tolkien art. Now the only thing I need is time to actually get it done. First, however, I have to finish another series of illustrations for Portal Editions, and a couple of other commissions.

Also, there is another publication featuring my artwork, entitled Fastitocalon. More information about the book and its contents can be found at the Fastitocalon website.
07.02.10:
The 2010 Tolkien Seminar organised by the German Tolkien Society and Walking Tree Publishers deals with "Tolkien and Romanticism". For the illustration, I "quoted" a painting by German Romantic artist Caspar David Friedrich entitled "Wanderer above the Sea of Fog" (1817/18), altering it a little to give it a Tolkienean touch.

This Seminar will also see me as a lecturer, speaking about "The aesthetics of Middle-earth. Paintings and architecture of the Romantic period and their influence on J.R.R. Tolkien" together with Marcel Bülles. The complete schedule can be found here.
05.02.10:
I finally managed to put my illustrations for Golgrim's Keys online, the first volume of a series of fantasy books entitled The Scarecrow and the Storms published by Portal Editions. I have created a new section on this website for this project, as there are more books to follow, some of which I'm currenty in the process of illustrating.
11.01.2010:
Happy new year! After an extremely busy end of 2009, the new year seems to be continuing along the same lines – which is good. I'm currently working on illustrations for two books published by Portal Editions, and am going to update this website soon with samples of my drawings for the first book I illustrated for them last year.

Also, Beowulf and the Dragon has arrived from the printer, and it looks awesome. I'm very pleased with the way it turned out, and am thrilled to finally see it in print. A big thank you goes to Walking Tree Publishers for agreeing to take the risk and publish it, and to all who contributed. Below is the cover again and some sample pages, which can be found at the publisher's website, together with information about prices and availability. Also check out the Beowulf-section of my website where you can read about how this project developed.

Apart from Beowulf and the Dragon, some other books featuring my artwork have been published recently. There are an English and a German version of Music in Middle-earth (Musik in Mittelerde), the former again published by Walking Tree and the other by Verlag der Villa Fledermaus. Both feature my watercolour "Daeron and Lúthien" on the cover. Clicking on the respective covers will lead you to the publishers' websites, where more information about the books and larger versions of the covers can be found.

Lastly, some time ago a book about dragons has been published by Fanfan Chen and Thomas Honegger. It contains a collection of articles concerned with these creatures, and bears the title Good Dragons are Rare: An Inquiry into Literary Dragons East and West. I contributed the cover illustration. The pencil drawing can be seen in a larger version below, as well as its use on the cover. It shows a western and an eastern dragon.
28.11.09:
Another book I've been involved in the making of has just arrived from the printer: Herborn – Historische Stadtansichten. This book, published by Herborn's Historical Society contains over 300 historic photographs of the various parts of the town, which in 2001 celebrated its 750th anniversary. I was responsible for typesetting and layout, and also contributed some of my Herborn-inspired drawings. More information about the book and some sample pages can be found by following the link below.
21.11.09:
André Gand of www.tolkien-buecher.de has conducted an interview with me concerning Beowulf and the Dragon. You can read it here:
19.11.09:
More Beowulf: Beowulf Alive is a live-performance of the poem by Hannes Kaiser. I created an illustration to be used on the posters announcing the events, as well as a series of illustrations for the text which was adapted by Hannes. Clicking on the poster will tell you more about the performance, clicking on the drawing will lead to the Beowulf Alive-section on my website where the other illustrations can be found.
13.11.09:
I'm very happy to announce that Walking Tree Publishers are going to publish my version of Beowulf and the Dragon which I designed and illustrated for my final project at Colchester Institute in 2003. The book is going to feature a foreword by eminent Tolkien scholar Tom Shippey. I am very pleased that he agreed to it. In fact, it is only fitting. It was because of his book The Road to Middle-earth that I got interested in Old English and Beowulf in the first place. I'm also indebted to John Porter who allowed us to use his verse translation in the published version, and to Thomas Honegger for his editorial assistance. Below is the cover of the published edition. More information about my Beowulf-project and the illustrations can be found here, and at the WTP-website.

08.10.09: A new and somewhat unusual Tolkien-painting, entitled "Tom and the Hobbits", commissioned by Frank Schmelzer. It has the form of a dyptych, so actually it consists of two paintings, 30x40cm in format, and contains a little inside joke.
09.09.09: I've put the artwork for Black Powder War online, the third of Naomi Novik's Temeraire-novels I illustrated for Subterranean Press. The artwork can be found in the Temeraire-Section and also on the Temeraire-Wiki.
06.09.09: Two new Tolkien paintings: one for The Lord of the Rings, the other for my "Gladden Fields"-series from Unfinished Tales. They are entitled "Boromir takes leave" and "Isildur's last counsellor".
12.08.09: There are some more news on the book-front: Firstly, yet another publication by Walking Tree Publishers, a collection of essays about JRR Tolkien and his work by Prof. JS Ryan, I contributed 14 ink drawings to, strongly inspired by Viking art. The book's title is: Tolkien's View: Windows into his World.
Secondly, the fifth volume of Hither Shore, the annual journal of the German Tolkien Society has been released. This edition's topic is The Hobbit.
And speaking of The Hobbit, there is a new painting in the Hobbit-Section, entitled "Smaug over the Lonely Mountain".
18.07.09: Ok, I know it looks like I have fallen off the face of the earth, but that's not the case. In fact, the past months have been very busy (at school, uni, and in the form of commissions), and very productive.
The two books for G&G Verlag I have been working on are now finished, and are going to be released soon. They are Princess Sisi, a picture book, and Fairytales from Austria, a collection of re-narrated traditional folktales.
As much as I enjoyed working on both projects, I am also glad that now, finally, I have some time for new Tolkien-inspired illustrations. I also have a couple of other, smaller commissions, but they should leave me time to return to Middle-earth. I really missed it. So watch out for new Tolkien-pics soon, as well as artwork from other commissions.
22.03.09: By now I have almost completed the "Sisi"-commission for G&G Verlag, and am going to continue with the "Fairytales of Austria". In between I managed to draw an illustration for the poster announcing the 6th Tolkien Conference of the German Tolkien Society, in association with Walking Tree Publishers. It's going to be held at the university of Hannover, Germany from April 24th to 26th. More information and the seminar's program can be found here. A larger version of the poster can be seen in the drawings-section, or by clicking on the image below.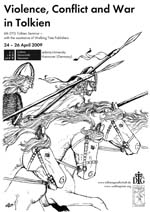 In other news, Portal Editions have just sent me copies of the first part of their fantasy-trilogy The Scarecrow and the Storms for which I created the cover illustrations. They have changed the layout a little to the black covers which I posted on December 12th. I think the change is a good one. Soon, Portal Editions is also going to publish an "Adventure Book" based on the first novel, containing another cover by me and a number of interior illustrations.
10.02.09: I have just received my copies of Jeder Tag ein neuer Anfang ("Every day a new beginning, a bible for children) published by G&G Verlag. By now I'm already working on the next two projects for this publisher: a picture-book about the childhood of von Empress Elisabeth of Austria ("Sisi"), as well as a book about Austrian Fairytales. Following the link below there are some impressions from the bible:
01.12.08: Again it's been some time since my last update. I have by now completed the illustrations for Jeder Tag ein neuer Anfang (the children's bible) for G&G Verlag and have started on a new project for the same publisher.
I have also created three cover-designs and -illustrations for Portal Editions, for their trilogy The Scarecrow and the Storms, and am currently working on illustrations based on the first book for their website. Once they are done, I'm going to create an extra section on my website for this project. For now, you can have a look at the covers below (clicking on the images will lead to the Portal Editions website, where they can be seen in a larger version).
In addition, my artwork for Throne of Jade, the second of Naomi Novik's Temeraire-novels, is online. The third volume, Black Powder War, is going to be released by Subterranean Press around the end of the year, and they have featured two of my illustrations for that book on their website.
29.09.08: It has been quite some time since my last update. The reason is that I am very busy at the moment, working on another commission for G&G Verlag (a Bible for children), with other projects already lining up. So, sadly, there has hardly been time for new Tolkien-artwork lately. Earlier this year, however, I finished a piece entitled "Daeron and Lúthien", which is to be used as a cover illustration for a new book from Walking Tree Publishers : Music in Middle-earth
The book will be published in English and German, and the editors Heidi Steimel and Friedhelm Schneidewind are still looking for contributors. The call for papers can be found here.
In other news, there are two new drawings for The Snake's Checkmate in the Drawings-section: "First fitting" and "The Entertainers"